Chair's governance statement
Delivering

on strategy


On behalf of the Board, I am pleased to present the Group's Corporate Governance Report for the year ended 28 February 2023.

As I outlined in my review earlier in this report, this year has been characterised by marked acceleration in the financial performance of KX and First Derivative. The Board's priority has been to support the transformation of the Group with a focus on executing our strategy for the benefit of our stakeholders.

I consider that achieving our goals requires the highest standards of governance and culture. As Chair I seek to demonstrate objective and promote constructive discussions between Board members, while ensuring that Directors continue to receive accurate, timely and clear information that enables them to perform their roles effectively.

The Board received updates from the CEO on business unit performance at every Board meeting and the divisional leaders have all attended Board meetings during the year to provide detailed updates on business unit performance to enable the Board to assess progress and provide direction if needed. Venues for Board meetings rotate through the year to enable the Board to visit the Group's operations, facilitating dialogue with employees at all levels in each location.

The right talent is the cornerstone of our growth and we have continued to strengthen our senior management team to ensure we can deliver on our strategic priorities. Accountability in behaviour and results is core to the structure of our remuneration strategy, linking compensation to achieving the value creation we have laid out in our short and long-term goals. Key to this was the work of the Remuneration and Talent Committee, particularly around the Long Term Incentive Plan awards which are crucial to our recruitment and retention efforts.

We review our succession planning process annually and have action plans in place to continue to develop potential leaders and increase our pipeline depth across the organisation. Two bespoke programmes were introduced this year to offer structured and practical training for both our high-potential leaders (Aspiring Leadership Programme) and our Senior leaders (Leadership Excellence Programme). Constantly upskilling our people will ensure we have a pipeline of talent primed to take on leadership roles in the future.

Employee engagement is a key metric that we review to ensure we have the right culture, skills, and strategic alignment to accomplish our mission. I am pleased with the level of engagement from employees, as reflected in our annual employee survey. This demonstrates that in important categories such as sustainable engagement we have an engaged, enabled and energised workforce.

A diverse and inclusive workforce is critical to running a sustainable and successful business. Our work on diversity, inclusion and belonging continued this year resulting in achievement of the Silver accreditation from Diversity Mark NI. We continue to drive clear focused initiatives that are outcome based ensuring we are making measurable progress.

Last year I noted that much work had been done to strengthen enterprise risk management and enterprise reporting systems. I am pleased that a new enterprise reporting system is now in place supporting the business and its decision-making processes by providing increased control and better insights. The work of the Audit and Risk Committee continued to expand during the year, as outlined in detail in the Committee's report, and will contribute greatly to our performance in the years ahead by ensuring that our financial reporting processes are robust and our risk management framework reflects the Board's appetite for risk.

Since my last report there have been no changes to Board composition. This stability and continuity of leadership have strengthened the Board's ability to focus on executing our strategy. We have a highly talented and experienced Board and I am confident these skills will serve us well as we accelerate our growth. We review the composition of our Board on an annual basis and have a well-defined process and skills matrix that is updated to support our strategic goals.

A review of Board effectiveness was undertaken during the year using an independent, externally facilitated questionnaire which asked questions in all key governance areas and covered the Board and its Committees. The Board reviewed the output following the evaluation and agreed the key actions shown on page 50.

In summary, the past year has increased our ability to execute our strategy, through improvements in enterprise systems, and increased senior management capability and engagement throughout the organisation. The Board has confidence that the Group's strategy is working and our progress over the past year reflects this.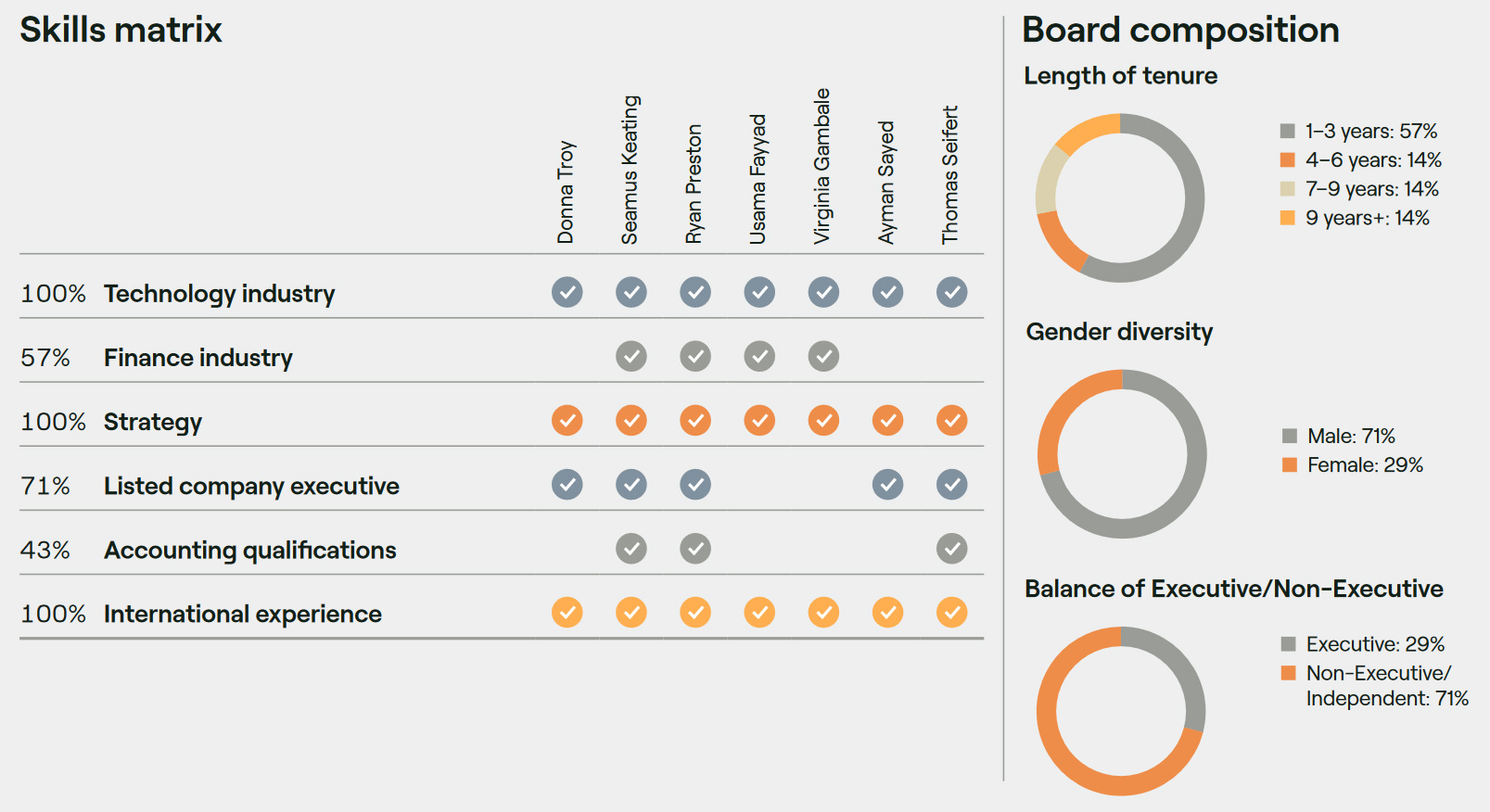 Technology and Product Committee
In FY21 the Board established a technology sub-committee to steer the development of our technology, and address emerging opportunities and risks to ensure we retain our leadership position and are on course to meet our strategic goals. Given the importance of these activities to our strategy, the Board has decided that with effect from 1 March 2023 the sub-committee will become a full Board Committee. Known as the Technology and Product Committee, it is chaired by Non-Executive Director Usama Fayyad with Non-Executive Director Ayman Sayed as the other Committee member and meets at least quarterly. Its terms of reference are:
review, evaluate and make recommendations to the Board regarding the Company's major product and technology plans, strategies and intellectual property, including its research and development activities, the technical and market risks associated with product development and investment, and the protection of the Company's intellectual property;
review, evaluate and make recommendations regarding talent and skills of the Company's workforce supporting its product, technology, and research and development activities needed to be successful now and in the future;
monitor the performance of the Company's technology development in support of its overall business strategy;
monitor and evaluate existing and future trends in technology that may affect the Company's strategic plans, including monitoring of overall industry trends; and
assess the Company's risk mitigation policies and procedures relating to products based on new technology or significant innovations to existing technology.
Compliance with the UK Corporate Governance Code
The Company is listed on AIM and Euronext Growth Dublin and is committed to ensuring the operation of high standards of corporate governance. It has adopted the 2018 UK Corporate Governance Code (the "Code") as its governance framework and has put in place procedures and policies to comply.
During the year, the Company has complied with all of the provisions of the Code.
Donna Troy
Chair
22 May 2023